The Streetsville Pipes and Drums were formed in 1986 by the initial sponsorship of Royal Canadian Legion Branch 139 in Streetsville Ontario.
Since its initial start, the band has moved forward on its own to become a strong organization. The band performs for a wide variety of functions on a regular basis: Legion duties / parades, community parades, Scottish festivals, corporate events, weddings and funerals, and various other occasions as requested. We can also provide soloists or a 'mini band' according to the individual need. Although strictly a non-competing band, we have accumulated an impressive array of trophies and awards presented to us by various parade committees over the years. We practice Monday evenings at R.C.L. Branch 139, Streetsville, and our various parades and events are spread throughout the year.
The band has been involved in one of the charity gaming enterprises in Mississauga since 1995. This activity has helped to finance a lot of our capital costs (uniforms, drums, instructors, etc.) in the continued function of the band. It has also allowed us to donate $75,000 from surplus funds to the following charities:
Credit Valley Hospital
Trillium Mississauga Hospital
Princess Margaret Hospital
R.C.L. Branch 139
MacDonald Caledonia Pipe Band
… a variety of others…
Our latest donation to mark our 30th anniversary in 2016, was to Trillium Etobicoke Hospital's chemotherapy suite in the amount of $15,000.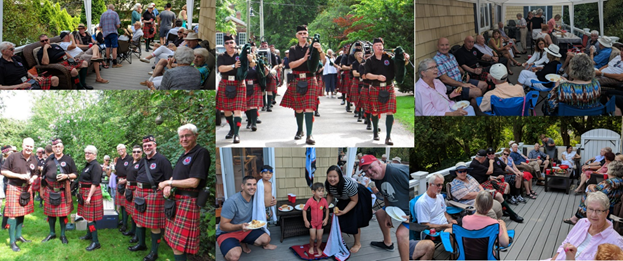 QRANG Pipes & Drums

Since 2006 the band has been involved with The Queen's York Rangers, 1st American Regiment, R.C.A.C., and have become the regimental band. The Rangers are an armoured reconnaissance reserve army unit within 32 Brigade with armouries at Fort York and in Aurora. We provide music for their various functions including military parades, mess functions, New Year's Day levee, Lt. Governor's levee, and the Warrior's Day parade at the CNE. On occasion we have loaned out players to other regiments to augment their ranks for their special parades. We are proud to be part of the Regiment's long history.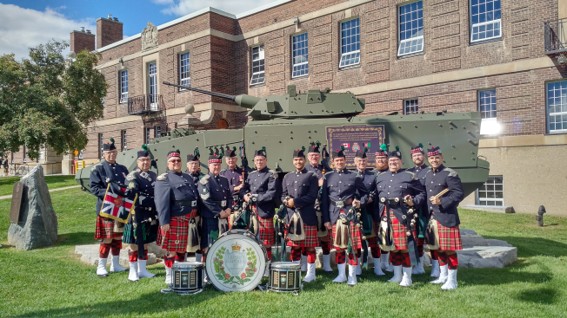 Playing abroad
While most of our activities are close to Mississauga or in southern Ontario, we have been most fortunate to be able to travel overseas many times, and take our music to far off lands. The band has now performed in:

1994 – Extended weekend to Dunedin, Florida for their Highland Games

1997 – 10 days in Scotland – World Pipe Band Championships; Ballater Highland Games; Crieff Highland Games; Stirling Castle; Dundee Town Square

2000 – 14 days in Scotland – First Pipe Band in history to play a private concert for Her Majesty Queen Elizabeth and Her Royal Highness Princess Margaret while they were vacationing at Balmoral Castle; Ballater Highland Games; Bonar Bridge parade; Stirling Castle

2004 – 10 days in Ireland – Carrickfergus Castle; Bunratty Castle; Dunluce Castle; Galway Town square; for the Lord Mayor of Dublin

2008 – 14 days in Spain, Portugal and Gibraltar – Cordoba, Spain; Gibraltar parade through town, Casement Square, and a reception at City Hall

2012 – 14 days in Germany, France, and Belgium – Chateau de Portales, Strassbourg; Strassbourg Cathedral; Vogtsbauernhofe, Honberg; Notre Dame Cathedral; Juno Beach; Dieppe; in the Last Post Ceremony at the Menin Gate, Ypres; Vimy Ridge; Beaumont Hamel

2016 – 7 day Cruise to Bermuda – on the Celebrity Summit; ashore in Bermuda